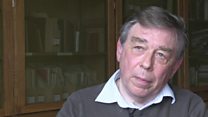 Video
The Somme: The story of the 6th Royal Berkshire Battalion
A battalion of 656 ordinary men stand out for their victory during day one of the Battle of the Somme.
On a day when tens of thousands perished on the fields of France, in a battle that would last 141 days, the boys from the 6th Royal Berkshire Battalion completed their mission in just 20 minutes.
Military Historian Martin McIntyre explained to BBC Berkshire how the army of volunteers achieved their objective so quickly.