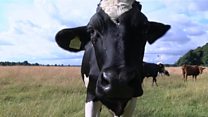 Video
Cow chaos concern over rubbish rule in Hungerford Common
Cows have been grazing on household rubbish since a change in the refuse collection rules in a Berkshire town, causing concerns for residents.
A pub landlord has even said he has seen cows running around with black bin bags hanging out of their mouths.
People in the Down View area of Hungerford Common raised alarm after cows were spotted trawling through bins that now have to be moved to a communal collection point.
But Hungerford Town and Manor said the change would help "reduce damage made by lorries backing up beside homes".
Residents said the cows now appear every Thursday "for a morning feast".