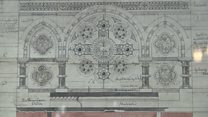 Video
Hidden Thomas Hardy altarpiece found in Windsor
An altarpiece designed by novelist Thomas Hardy, that had been hidden by wooden panelling for nearly a century, has been discovered at a church in Windsor.
Paper designs for the reredos had been on the church wall for decades, but it was thought it had never been built.
It was found at All Saints Church in Windsor by choir members looking for the foundation stone.
Hardy worked on designs for churches in the 1860s before becoming a writer.