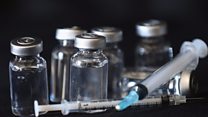 Video
Living with pernicious anaemia
A woman who suffers from an autoimmune disease has decided to self-medicate after not receiving the treatment she feels she needs on the NHS.
Claire McDonald is a pernicious anaemia sufferer, which causes a deficiency in vitamin B12 in the body.
She explained to BBC Radio Berkshire why she needs to buy drugs from Germany to help her medicate the disease.