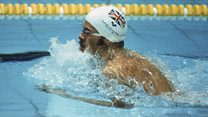 Video
Olympian David Wilkie told off for swimming fast in Bracknell gym
Gold medal-winning swimmer David Wilkie has told the BBC's PM programme that a lifeguard was wrong to complain about his etiquette at his local swimming pool.
The 62-year-old, who won gold in the 200m breaststroke at the 1976 Montreal Olympic Games, was accused of swimming too fast and without care for other users at the Virgin Active Club in Bracknell.
But he told Carolyn Quinn: "I think I was doing exactly what any swimmer - be him an Olympic swimmer or not - would do in the same circumstances, and that is to swim to the best of your ability."
"I was more Nemo-like than Jaws-like", the Surrey resident added
Virgin Active told the BBC they spoke to Mr Wilkie following the incident to try and resolve his complaint and "were sorry to see him leave".