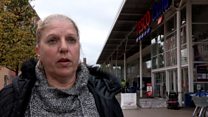 Video
Reading Tesco protest: Wife says 'he could stay up there for days'
The wife of a man protesting in the roof space of a Tesco in Reading says he "could stay up there for days".
Adama Jammeh claims he was sacked from Tesco after being wrongly accused of stealing.
His wife, Dawn described him as "a doer, not a sayer".
Tesco said it was assisting police with the matter but had nothing further to say.
Total Security Services (TSS) said it was "aware of the incident involving a former employee".
Thames Valley Police said it was called to reports concerning a man's welfare but is yet to respond to claims of Mr Jammeh's innocence.