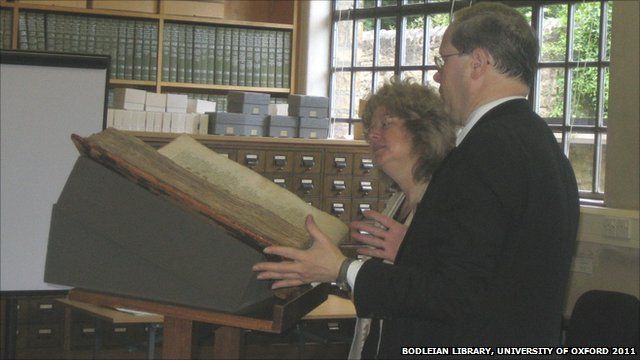 Video
West Midlands medieval script unlocks accent origins
Experts at a Birmingham university are using a 600-year-old medieval manuscript to find out more about the origins of the West Midlands accent.
The Vernon Manuscript dates back to 1400 AD and was written in the region's dialect.
University of Birmingham researchers are inviting local people to read parts of the text at a series of events.
They said they wanted to find out how the local dialect has changed over time and what aspects are still used today.
Research scholar, Luke Darbyshire, told BBC WM presenter Phil Upton that the manuscript had already shed some light on the West Midlands accent.
(Image of Professor Wendy Scase, Head of English Department at University of Birmingham and Dr Bruce Barker-Benfield, curator of medieval manuscripts at the Bodleian, is copyright Bodleian Library, University of Oxford 2011.)