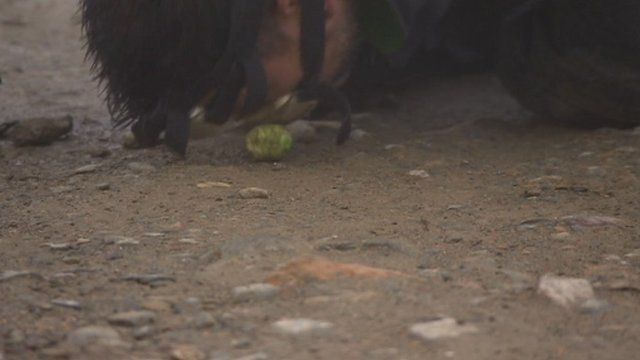 Video
Snowdon Brussels sprout challenge is man's 'toughest'
Pushing a Brussels sprout up Snowdon with his nose is "the most gruelling challenge" a charity fundraiser says he has ever done.
Stuart Kettell, from Balsall Common in the West Midlands, started out on Wednesday and reached the 1,085m (3,560ft) summit in four days.
His aim was to collect at least £5,000 in sponsorship for Macmillan Cancer Support.
He has previously raised money by staying inside a box for a week.
Speaking about his latest feat of endurance, Mr Kettell said he "can't imagine topping it".
During the challenge he said: "I've got blisters on my knees, no skin on my knees either. (I'm) very, very sore, aching."
BBC Midlands Today reporter Amy Cole was with him on the mountain.