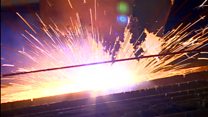 Video
Steel workers in Wednesfield: 'We just want answers'
Steel workers at the Tata plant in Wednesfield have said they want answers about their job security.
The Indian steel giant said at the end of last month that it was exploring "strategic alternatives" for its UK business.
Thousands of workers in England and Wales are at risk of losing their jobs if a buyer cannot be found.
Around 700 people are employed by the company in the West Midlands. Some workers said they feared being overlooked in the efforts to save jobs elsewhere in the UK.