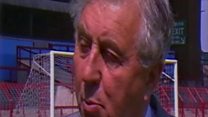 Video
Aston Villa relegation: Echoes of 1987 from Doug Ellis
"Players have not performed this season," former Aston Villa chairman Doug Ellis has said.
However, he was not talking about the current season which has seen Aston Villa relegated from the Premier League.
This interview was recorded when the club was relegated from the old Division One, back in May 1987.
Mr Ellis, now 92, was at Old Trafford on Saturday to see Villa's defeat against Manchester United.
Go to next video: Aston Villa relegated after Man U defeat