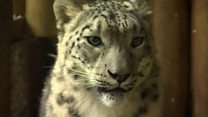 Video
Dudley snow leopard to have a spot of Darjeeling
A snow leopard from Dudley Zoo is going to India as part of an international breeding programme.
Makalu, who was born at the Black Country zoo, is being transferred to Darjeeling, West Bengal.
The big cat species is on the list of endangered animals. It's believed there are between 4,000 and 6,500 left in the world.
Go to next video: Protecting Mongolia's snow leopard