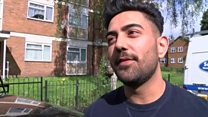 Video
Brexit: Black Country voters on their 'best day'
Black Country voters have been speaking of their delight following the UK's Brexit vote.
These people in Tipton - part of the borough of Sandwell - gave their positive reaction, citing fears over immigration.
Sandwell was among the 29 out of 30 West Midlands voting areas to back the Leave campaign, beating Remain by a margin of 18.5%.
Go to next video: West Midlands Leave campaign celebrates