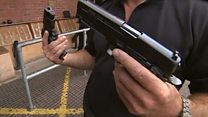 Video
Armed police called to 80 incidents of replica firearms carried in public
Armed police in the West Midlands have in recent weeks been called to 80 cases of replica firearms being mistaken by the public for the real thing.
It has led to officers - compiling incidents since April 1 - to warn of the dangers of carrying BB guns and air-powered weapons on the street.
One false alarm saw police deploy a motorway roadblock after a man was seen pointing a firearm from a car window. Officers discovered it was a BB gun bought during a stag do in Blackpool.
Insp Richard Webb of West Midlands Police said: "Obviously the consequences can be dire because we carry real conventional firearms."
Go to next video: US police kill boy carrying fake gun