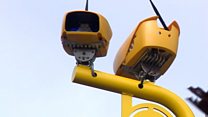 Video
Birmingham and Solihull get average speed cameras
Average speed cameras have been switched on in Birmingham and Solihull.
It comes three years after West Midlands Police turned off traditional style "wet-film" cameras to save money.
They've gone up in eight locations and measure the time taken to travel between two locations.
Ch Insp Kerry Blakeman said: "Our intention is absolutely clear, it is to reduce speed limits, it is not to catch the motoring public."