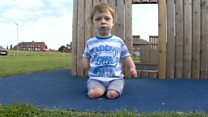 Video
Plea from mum of boy who lost limbs to meningitis B
The mother of a boy from Walsall who lost his limbs after contracting meningitis B has said she will fight for all children to be vaccinated against the infection.
Julie Tuckley has been campaigning for the meningitis B vaccine since Tommy, who's four, was diagnosed as a baby.
The Department of Health says it has to prioritise those most at risk. The vaccination is available on the NHS in the first year of life, but only to children born from April 2015.
Go to next video: Mother's plea for routine Men B jabs