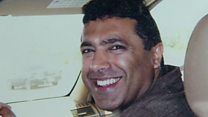 Video
Ranjit Singh Power murder: Mother's plea for answers
The mother of a businessman who disappeared on a trip to India wants answers over a mystery that is being treated as murder.
Gurjit Kaur Power said her thoughts were forever with her son, Wolverhampton hotelier Ranjit Singh Power, who went missing last year in Punjab.
A taxi driver has confessed to his murder, but Indian police say Mr Power's business partner, Baldev Singh Deol, is a suspect.