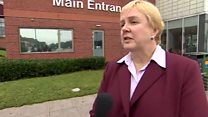 Video
No cuts to clinical services: Birmingham health boss
Plans to merge two hospital trusts in Birmingham will not mean cuts to clinical services, according to the health official who announced the plan.
Dame Julie Moore has served as chief executive of both the University Hospitals Birmingham and Heart of England foundation trusts since November.
The announcement comes in the wake of Heart of England running up a deficit of £29.5m in five months.
Dame Julie also said there would be no compulsory redundancies.