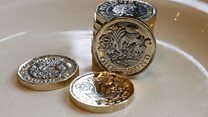 Video
Walsall teenager 'humbled' as his design makes £1 coin
A schoolboy who helped design the new 12-sided pound coin has now seen his design in use.
David Pearce, 17, from Walsall, won a competition to have his idea make the "tails" side of the coin that went into circulation on Tuesday.
His design - featuring a rose, thistle, leek and shamrock - represents the UK's four nations.
This video has been optimised for mobile viewing on the BBC News app. The BBC News app is available from the Apple App Store for iPhone and Google Play Store for Android.