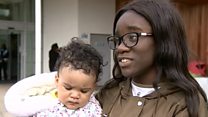 Video
Aston people living near WW2 bomb evacuated to shelter
People living near to where a large World War Two bomb was found were evacuated to a gym at an athletics stadium.
Their homes lie within a 500m exclusion zone created around the bomb which was discovered in the Aston area of Birmingham on Monday.
"Hundreds of homes" were evacuated, according to West Midlands Police, with about 80 people spending the night at Alexander Stadium under the watch of the Red Cross.
According to some of those affected, sleep - as well as travel across the city - has been disrupted.
Go to next video: 'Sand igloo' built around German bomb