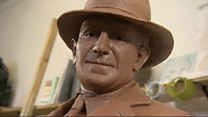 Video
Work begins on statue of British spy who saved Jews
A sculptor has started work on a statue of a war hero who helped an estimated 10,000 Jews escape Nazi Germany.
MI6 agent Frank Foley worked undercover for British Intelligence as a passport control officer in Berlin.
He used his position to provide papers to help Jewish people flee to Britain.
The life-size bronze statue is being funded by a government grant and will be placed in Mary Stevens Park in Stourbridge, in the West Midlands, next summer.
Go to next video: Family shocked to discover Nazi 'secret'