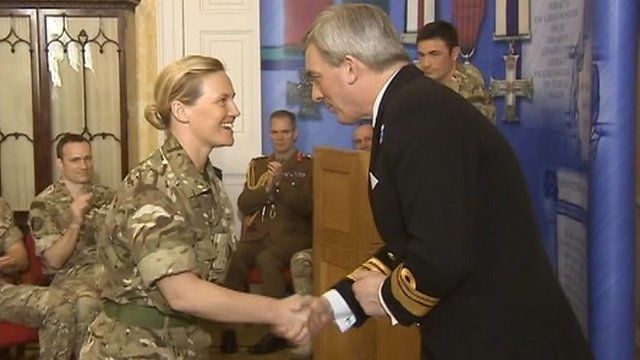 Video
West service personnel honoured
Service personnel from Bristol and Somerset who risked their lives to protect others during recent tours of duty in Afghanistan and Libya have been given military honours.
Flt Lt Jon Singh, 31, has been awarded the Distinguished Flying Cross after managing to land his Chinook helicopter safely in Afghanistan despite insurgent gunfire rendering it "almost unflyable".
Sjt Deacon Cutterham, 28, of 1st Battalion the Rifles, protected his comrades by picking up and throwing away a live Taliban grenade in Afghanistan.
He has been awarded the Conspicuous Gallantry Cross.
And Aircraft Engineer Mechanic Michelle Ping, a Royal Navy Reservist at Yeovilton, was mentioned in dispatches for her bravery on 2 July 2011, during her first tour of Afghanistan last year.
READ MORE: Defence personnel given honours