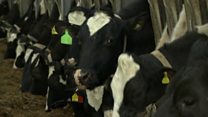 Video
Cow foot trimmer 'threatened' by vegan activists
A dairy worker from Gloucestershire claims he is being intimidated by vegan extremists who claim milk production is cruel.
Tom Morris, a cow "foot trimmer" in the Forest of Dean, says he has received both verbal and online abuse.
Campaigners claim dairy cows are kept in a cycle of constant pregnancy, leading to stress and exhaustion.
Mr Morris said some activists are putting the animals at risk and "there needs to be more understanding of what goes on" in the farming industry.