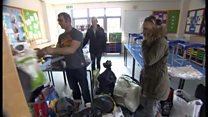 Video
Fire-hit Wisbech family thank community for donations
The parents of a family of six which lost almost everything in a house fire have thanked the community for their generous donations of clothes and toys.
Bags full of gifts were handed in to Orchards Primary School in Wisbech for Richard and Vicky Blackwell after the blaze last month.
Their one-year-old son Breydon is still recovering after suffering serious burns.
"We never in a million years thought that we would get this," said Mrs Blackwell.