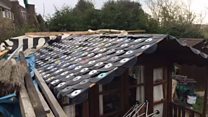 Video
Vinyl LP shed roof leaves March owner in 'spin'
A man has created a literally "record-breaking" shed by covering it with hundreds of vinyl records.
Mike Johnson, from March, Cambridgeshire, picked up cheap albums from local charity shops and put the records on the roof and the album covers on the walls of an outdoor toilet.
He had a "lightbulb moment" when he thought up the money-saving method of protecting the building after the wind kept ripping the bitumen off, he said.
It cost £70, which was "a lot cheaper than tiles" and took just two days to complete.
Mr Johnson said "thinking up new ways of solving problems" was "a bit of a hobby".