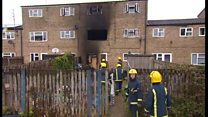 Video
Peterborough fire leaves family homeless
A family in Peterborough have been left homeless after their house was completely destroyed by fire.
More than 30 firefighters were called to the home of Mandy Rennie and her three children in Brynmore, Bretton, on Thursday.
Despite losing most possessions, crews managed to rescue the family dog that had been cowering in a kitchen cupboard for an hour.
BBC Look East's Emma Baugh reports.