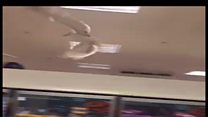 Video
Unexpected flight-em: Seagull sparks Truro Tesco evacuation
A seagull forced staff to evacuate a branch of Tesco after it flew inside the store.
Footage from inside the Tesco store, in Truro, Cornwall, shows the bird flying above the store's freezer section.
It evaded attempts to capture it by staff on ladders.
Shopper Brad Hutchinson said staff set off the fire alarm and told members of the public to leave immediately at around 20:45 BST on Tuesday.
A spokesman for Tesco said staff closed the store so they could safely release the seagull and apologised for any inconvenience caused.
Video: Brad Hutchinson