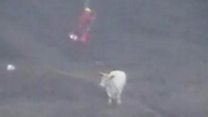 Video
Pregnant cow rescued from 40ft Polzeath cliff
A pregnant cow has been rescued after falling down a 40ft cliff and then swimming to an "isolated island".
The cow spent a night down on the rocks before being sedated at The Rumps, near Polzeath, Cornwall.
After a nine-hour rescue, the rare White Park cow was winched back up to the top of the cliff at 16:30 GMT on Sunday.
"Despite her ordeal she is now back happily grazing in the field," Cornwall Fire and Rescue Service said.
There is no sound on this video.