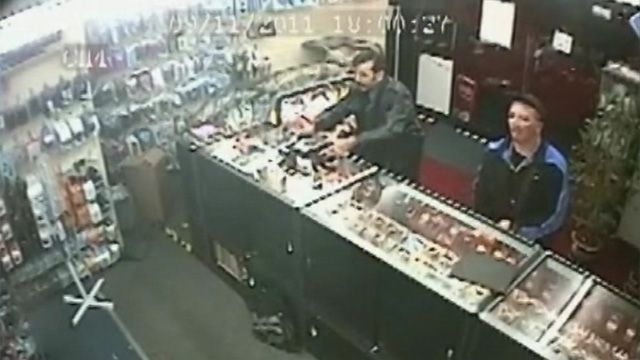 Video
Fatal attack on Ali Jawaid captured on CCTV
Three men have been jailed for the fatal attack on a mobile phone businessman that was caught on CCTV.
Ali Jawaid, 43, from Ward End Birmingham, was delivering mobile phones when he was hit over the head with a metal bar before thieves escaped with his van.
He died in hospital a week after being put into an induced coma.
Three men were jailed for manslaughter and robbery at Warwick Crown Court on Wednesday.
Gregg Robertson, 24, and Glenroy Blackstock, 25, were each jailed for eight years, while Shaun Mills, 27, was given 11 years, including three for a separate robbery.
During their trials the court heard Mills had seen Mr Jawaid making the delivery, before contacting six other men to take part in the robbery.
The jury heard Robertson had delivered the fatal blow, which had cracked Mr Jawaid's skull and caused fragments to damage his brain.
Four men were also jailed after admitting handling stolen goods.