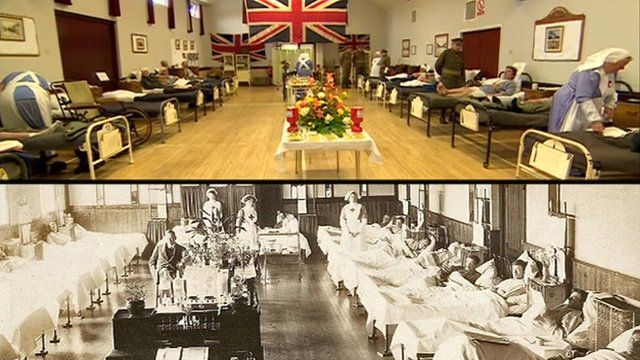 Video
Volunteers re-create Henley-in-Arden WW1 hospital
Volunteers have come together to re-create an auxiliary hospital to mark the 100th anniversary of the outbreak of World War One.
The hospital, which started with 20 beds and had an operating theatre, was used between November 1914 and April 1919 in Henley-in-Arden, Warwickshire.
Author Douglas Bridgewater, who has written a book about the area in World War One, said: "The open-air ward was a cheap and effective method of treating wounds in the days before antibiotics."
Dennis Cox, of the Royal British Legion, who had the idea to re-create the facility, said the hospital was originally set up by Henley GP Dr Ernest Nelson.
He said: "(Dr Nelson) was very well thought of in the area and he had a vision of turning what was then the Henley institute and public hall into a... hospital."
BBC Midlands Today's Sarah Falkland reports.