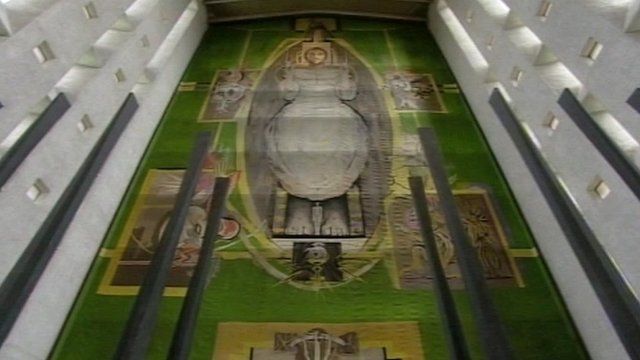 Video
Coventry's 'world's largest' tapestry restored
A tapestry, believed to be the largest of its kind in the world, is being restored in a £100,000 project.
Designed by Graham Sutherland and titled Christ in Glory, the tapestry has hung in Coventry Cathedral since the building was consecrated in 1962.
Weighing more than a tonne and measuring 75 x 38ft (23 x 11m), cleaning and repairs are expected to take a month to complete.
Rev Canon Dr David Stone said he hoped it would go back on display soon after Easter.
Conservator May Berkouwer said: "(It's) so much more thorough than what I do at home, very systematic."
Fellow conservator Alison Lister said: "It's absolutely massive. Your average tapestry, historic tapestry from (the) 17th Century for example is about four metres by five metres, so this is seven, eight times the size of that."
Coventry Cathedral head of development Christine Doyle said: "We have partners in over 30 countries across the world, so people do come here. They come here on pilgrimage, people come here as tourists to see the new cathedral and part of that architecture is the iconic tapestry of Christ in Glory."