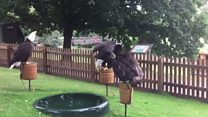 Video
Henry, a bald eagle, returns to his roost at Warwick Castle
Henry, a young bald eagle who flew away following a birds of prey display, has returned after nearly a week away.
He returned to his roost during another display at Warwick Castle.
He was reunited with his mum and dad, Sydney and Archie, but, his handler, Chris, said he seemed supremely unbothered by his adventures.