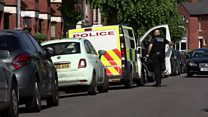 Video
Manchester attack: Nuneaton house searched by anti-terror police
Police are questioning a man from Nuneaton in connection with the Manchester bomb attack which left 22 people dead including a number of children.
A house is in the town is also being searched by counter terrorism officers.
Neighbours told the BBC Naser Elshetwi lived there, a 48-year-old Libyan with five children aged between seven and 21.