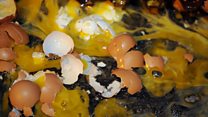 Video
Woman calls 999 over broken eggs in fridge
A woman called 999 for advice on storing a cracked egg in her fridge.
East Midlands Ambulance Service (EMAS) said it was just one of several inappropriate calls they had received in the last six months.
Other examples included a caller who complained of suffering with toothache and another who wanted their breakfast making.
Last month, EMAS received almost 60,000 emergency 999 calls - a small proportion of which were deemed inappropriate.