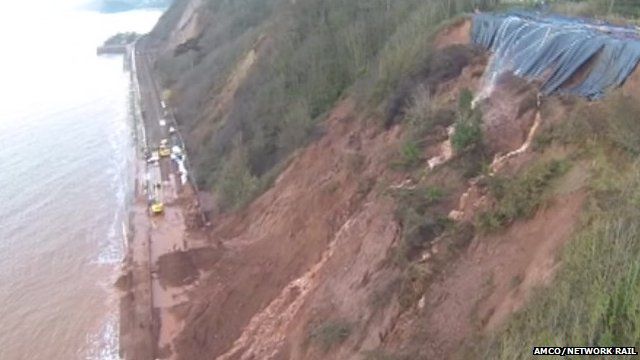 Video
Dawlish landslip: Army to clear rail line
Rail engineers have called in the Army to help reinstate the main rail line into the South West damaged by a storm.
About 30,000 tonnes of unstable rock and soil has to be removed between Dawlish and Teignmouth following a controlled landslip.
Network Rail hopes the Royal Engineers will be able to use specialist equipment to remove part of the rock face so the line can be reinstated.
It added it hoped the line would still be reopened on 4 April.
Network Rail said it was unable to work below the area close to Teignmouth Road, Dawlish, because of the risk of rock and soil collapsing.
Footage provided by Amco/Network Rail.
Go to next video: Dawlish defences damaged again