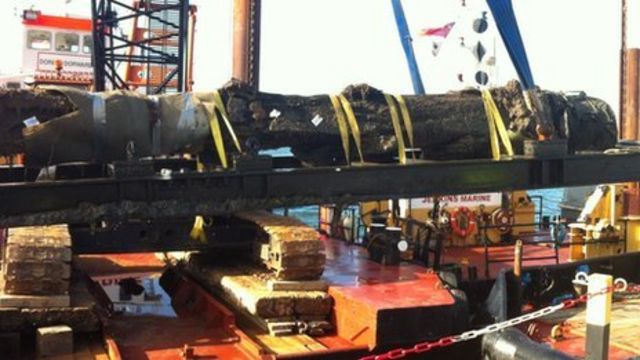 Video
Poole Swash Channel Wreck: Rudder brought ashore
The rudder of a 17th Century merchant vessel shipwrecked off the Dorset coast has been brought ashore.
The so-called Swash Channel Wreck was discovered outside Poole Harbour in a sand and shingle bank that was struck by a dredger in 1990.
Its 8.4m (28ft) rudder, carved with the image of a man's face, was lifted onto Poole Quay by Bournemouth University marine archaeologists at 08:45 BST.
Little is known about the name and origins of the vessel and its crew.
A £450,000 conservation project funded by English Heritage has already seen several parts of the ship raised, including rare examples of carved Baroque woodwork.
19 Aug 2013

From the section

Dorset