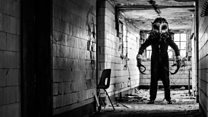 Video
Essex Serpent among books inspired by snakes, owl men and demon dogs from folklore
Phantom dogs, spring-heeled demons and a half-man, half-owl hybrid - these are just some of the strange and mythical creatures from English folklore that have inspired writers for centuries.
It was while Norwich novelist Sarah Perry was driving through Essex with her husband that she first heard the story of a giant serpent, with teeth "very white and sharp".
The myth of a 9ft (2.7m) snake which terrorised the county's cattle had been told for centuries.
Inspired, she produced her novel The Essex Serpent, which won her the Waterstones Book of the Year prize last year.
The tale of the giant serpent first surfaced in a pamphlet from 1669, which claims its antics were "attested by many credible persons".
07 Mar 2017

From the section

Essex