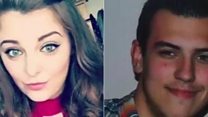 Video
Modifications to car 'led to the deaths of two young people'
Modifications to a car led to the deaths of Thomas Putt, 20, and Nikki Willis, 23, from carbon monoxide poisoning, an inquest has heard.
The carbon monoxide levels produced by Mr Putt's car were 1,000 times higher than a factory standard vehicle.
Exhaust fumes had leaked under the bonnet because of the modifications, which included vents being cut into the bonnet and the catalytic converter being removed.
The pair from Chelmsford, who were not a couple, had been sitting in the vehicle with the engine running just before Christmas.
It was described as a "unique" set of circumstances.
Police have released footage of tests on the car, showing how the fumes leaked into the interior.
The inquest recorded a verdict of accidental deaths.
22 Mar 2017

From the section

Essex