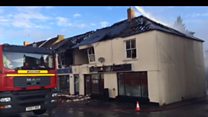 Video
Berkeley fire severely damages town centre property
Firefighters were called to a blaze that broke out at a commercial property in Gloucestershire overnight.
Four fire engines were called out at 01:00 BST to the empty two-storey building in Canonbury St, Berkeley. No-one was hurt.
The cause of the blaze has not been confirmed yet by Gloucestershire Fire and Rescue.