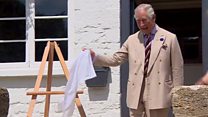 Video
Prince Charles knocks commemorative plaque onto ground
The Prince of Wales had a bit of trouble when unveiling a plaque to commemorate his visit to a nature reserve in Gloucestershire.
As he pulled a sheet away from the plaque at Daneway Banks it tumbled to the ground.
Prince Charles is patron of Gloucestershire Wildlife Trust, which saved the nature reserve near Stroud for the nation by buying it.
The reserve contains rare species of plants and insects, including the endangered large blue butterfly.
TV presenter Ellie Harrison, who is president of the trust, came to his rescue.