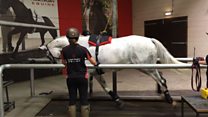 Video
Hartpury College horse treadmill helps runners and riders
Hartpury College, near Gloucester, has taken delivery of a simulator to improve horse and rider performance.
The machine, in the college's Equine Therapy Centre, cost £90,000 and allows riders to train in dressage, show jumping and cross country.
It can also be used to help in the rehabilitation of injured riders.