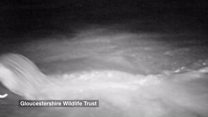 Video
Otters return to Stroud's waterways
Otters have naturally recolonised the waterways in Stroud, without any help from humans.
Conservationists said their presence is an indicator of good water quality.
England's otter population disappeared dramatically between the 1950s and 1970s because of pesticides polluting the rivers.
But over the years many otters have moved to the clean and healthy waters of Frome Banks Nature Reserve which are maintained by the Gloucestershire Wildlife Trust.