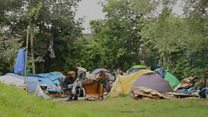 Video
'Tent City' residents told to leave Bristol park
A group of rough sleepers has been ordered to leave a park in Bristol where they set up a tented community.
Bristol City Council won an injunction against Tent City residents who are camping in an Easton park.
The group, which has camped in Peel Street Park since April, now has 28 days to leave or be moved by bailiffs.
Go to next video: Being homeless: 'My feet are tired'