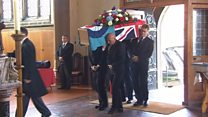 Video
Funeral held for UK's oldest person
The funeral of a woman who was the UK's oldest person until her death at the age of 113 has taken place.
Gladys Hooper died at a nursing home in Ryde, Isle of Wight, on 9 July.
A bell was rung 113 times at All Saints' Church in her memory.
Mrs Hooper was a concert pianist in her younger days and some of her favourite songs were played during the service.
Her coffin was also draped in an RAF flag to reflect her love of aviation and the fact her husband and son were both air force pilots.
Go to next video: UK's oldest woman thanks well-wishers