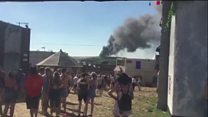 Video
Fire damages cars at Boomtown Fair music festival
A large fire has damaged a number of parked cars at a music festival in Hampshire.
The blaze sent a plume of black smoke over the west car park at the Boomtown Fair at Matterley Bowl, near Winchester, Hampshire.
A number of festival-goers said on social media the fire had caused "small explosions".
A campsite adjacent to the car park was evacuated but there were no reports of anyone being hurt.