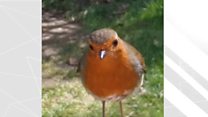 Video
Robin flies onto mum's hand as she visits son's grave
Footage of a robin filmed by a Hampshire mum visiting her son's grave has been viewed more than nine million times on social media.
Marie Robinson's son Jack died of a brain tumour aged four in 2014. She filmed the bird on the third anniversary of his death at the graveyard in Waterlooville, Hampshire.
Mrs Robinson said the family always associated robins with Jack so she was moved to tears when it flew on to her hand.
She has received hundreds of comments from around the world after posting it on Facebook.