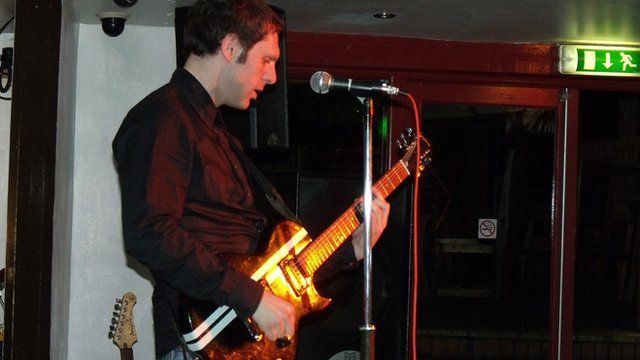 Video
Drummonds, Worcester - 26.04.12
We always like to support new ventures, so I decided to check out a new promotion at the Green Room in Drummonds, Worcester - a venue with one of the best PAs around - but which usually showcases covers and tribute bands over the weekends - which, as you know, really isn't my bag!
This event was put together by Kidderminster's Mark Bicknell - who used his connections to MAS Records to feature a couple of the acts that have been mentored by them. The evening kicked off, though, with Mark's own outfit - the punksome duo Bicknell & Jamieson, though I'm sure that they can find a snappier tag real soon! I have to say that I really enjoyed their very raw and stripped-down set - and they've got some very tuneful and catchy numbers like Rich 'n' Greed and What If You Lived that would benefit greatly from a little extra production - as soon as they're recorded of course. Mark, himself, is one hell of a character - who joshed pretty well with the audience and MCd the whole evening with some quirky humour.
The first MAS offering of the evening was SJS - a trio of 17-year olds - but showing a tightness and professionalism of an outfit twice that with Seb, James and Sarah bonding so tightly together on-stage without a chink of nervousness that you might expect from an outfit this young. But the core duo of James on vocals/guitar and Seb on drums have been gigging for a while now - and along with cracking established numbers like Can't Find My Way, there were newer ditties of quality like This Is Our Life and I Need You given a first airing. This is promising stuff from a trio that should really go far, as soon as they're allowed to get into all the venues they want to play - not long now guys!
This wasn't the best-advertised event I've been to - and that was reflected in the fairly sparse attendance at a gig that would surely have drawn a lot more punters - if only they'd known about it. Credit to recent sessioners Ronin for their professionalism in putting on their always stunning show of rock power for the faithful on the night, featuring new single Living In The Dark alongside 'oldies' such as Fly Away before closing off with the mighty Another Song About Her.
Headliners for the night were the punky powerpop trio Answer Back - comprising Oli (ex-Imprint Zero) on guitar, Jim (bassist with Ronda) with Chris wielding the sticks. Unusually all three musicians take turns at lead vocals in their high-energy numbers like Never Alone and Please Don't Go. It's been a while since I've caught these guys who are great supporters of the local music scene with their various other bands and promotions and they provided a cracking end to what could have been a really memorable evening with a little extra work on the advertising front. A great venue also - that would be improved immeasurably if they only got rid of that wooden column that always seems to appear in front of the lead vocalist wherever you're stood to take pictures!
Andy O'Hare