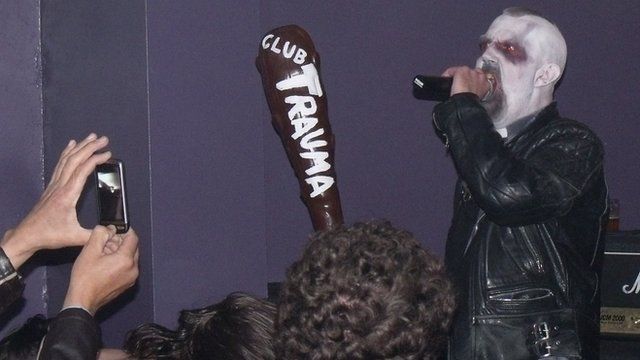 Video
Massive Head Trauma at the Pig & Drum, Worcester
You'll have to excuse me for, once again, following up my current flavour-of-the-year so far who are without doubt the incredible punk-poetic-metallic newbies Massive Head Trauma - who I caught at the Pig 'n' Drum in Worcester's vibrant Lowesmoor area.
Now this outfit have yet to record their amazing numbers like Lockdown, ArcLight and Sky High Street. I'm reliably informed this'll be happening really soon. I still think that the band name's going to throw up some barriers but I'm going with my gut instinct on this Reverend Ghenghis Memphis-fronted quartet of completely rock-solid metallers with great riffs and the most amazing rock-theatrical act I've seen in decades!
The Good Reverend is probably the nearest to the legendary punk poet John Cooper-Clarke going. There's a sackful of emotion and blistering anger delivered to you with each number - but while there's a message delivered each time (mostly pretty political and X-rated it has to be admitted) they're always ready to puncture the balloon with a touch of humour thrown into the mix.
And the main target of the jibes tonight was the Pig 'n' Drum's noise limiter - installed at the demand of local residents who are still objecting to a live music venue in the heart of a bustling town centre. Well, this gig would probably have finished a lot earlier - and they'd have been able to turn in at 11pm on a Friday night if the damn thing didn't have to be reset every 10 minutes or so - be careful what you wish for! If you choose to live bang in the centre of a city - you shouldn't expect that after sunset the only sound is going to be of the ploughman slowly plodding his weary way home.
Andy O'Hare