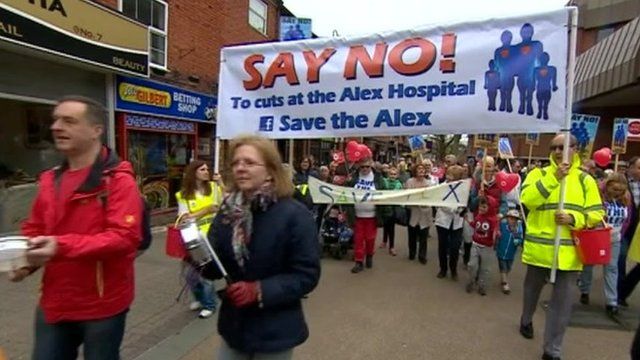 Video
Rally held for Redditch Alexandra Hospital campaign
About 500 people joined a rally in support of maintaining hospital services in Redditch.
Campaigners are worried that services like maternity and children's care at the Alexandra Hospital could move to Worcester, while A&E could be downgraded.
A report by NHS England on the viability of plans to reconfigure hospital services in the county is expected to be published after the election.
The Save the Alex campaign group said they had organised the rally on Saturday to make sure local parliamentary candidates were aware how important the issue was for local people.
The Redditch and Bromsgrove Clinical Commissioning Group said public consultation would follow depending on the results of the NHS England report and the plans were designed to maintain "safe and sustainable local hospital services in Worcestershire for the future".