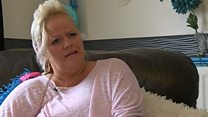 Video
'Lotto Gran' wanted to end her life
A woman who became famous by claiming a £33m winning lottery ticket was ruined in the wash has said the fallout led to her wanting to end her life.
Susanne Hinte from Worcester believed she had the winning numbers, but Camelot confirmed somebody else as the winner.
This led to a "life of misery" as Ms Hinte says she was accused of trying to fraudulently claim the money.
Nicknamed "Lotto Gran" by the tabloids, in an exclusive interview with BBC Hereford and Worcester, she said she "wanted to be dead" and couldn't understand why she was "hated by so many people".
Go to next video: Bus driver carries on route after Lotto win