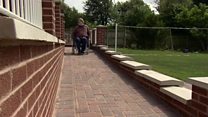 Video
Bromsgrove man learns to forgive after life-changing surgery
A hospital patient who has received a £2m payout after hip surgery left him paralysed says he has had to learn to forgive.
Stephen Onley suffered complications after he was given an epidural during hip resurfacing surgery.
It resulted in a lack of blood to the spine which left Mr Onley, from Bromgsrove, relying on a wheelchair.
"If you allow anger to eat you up it's self-destructive. So I've had to learn to forgive," said the 56-year-old.
Birmingham's Royal Orthopaedic Hospital said they review "serious incidents such as this one" to "prevent similar incidents".